ALBUQUERQUE, NM. – The inaugural Grassroots 365 New Mexico Invitational featured the best club teams from the Albuquerque and Santa Fe area and included teams from as far away as El Paso, Texas. The event gave us the opportunity to take a closer look at the individual and team talent which will play a big role in how the G365 Southwest Regional team rankings develop over the course of the 2017-18 season.
8th Grade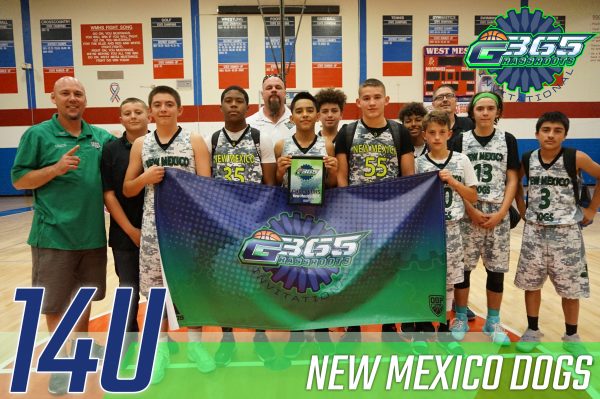 The 8th Grade Division featured ten teams led by G365 West #9 and Southwest Regional #1, NM Dogs. The NM Dogs showed no signs of slowing down as they went 6-0 en route to winning the championship. The NM Dogs were led by Most Outstanding Player, Ja'Kwon Hill, who will be featured in the upcoming G365 2022 Top 25 Players to Watch. Hill, a crafty 5'11" left-handed guard, took over games on both ends of the floor with his athleticism. The NM Dogs earned their stay atop the Top 10 2022 G365 West Coast Ranking as well as their 2022 Southwest Region #1 team ranking that will debut on November 15th.
All-Tournament Team
MOP Ja'Kwon Hill
NM Dogs
Elijah Frost
Frey Basketball
Orion French
Blackout
Nathan Randall
NM Dogs
Diego Little
NM Heat
Elijah Sims
Frey Basketball
7th Grade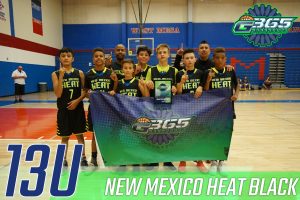 The 7th Grade Division was won by Southwest Region #4, NM Heat, who earned a spot on the G365 West Top 25. NM Heat went 5-0 and defeated NM Dogs and Elite Roadrunners on their way to the championship. NM Heat is a solid team who has a trio of talented players in Dylan Chavez, Harrison Frank, and Dalen Moyer. The Elite Roadrunners and NM Dogs also played well enough to earn a Top 10 spot in the Southwest Region Rankings.
All-Tournament Team
MOP Dylan Chavez
NM Heat
Eli Lovato
Elite Roadrunners
Chris Parra
NM Dogs
Harrison Frank
NM Heat
Elijah Foster
Elite Roadrunners
Tony Pacheco
NM Dogs
6th Grade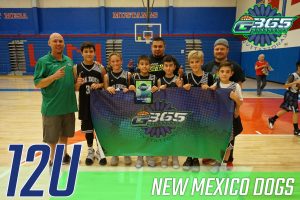 The 6th Grade Division came down to a battle between #9 Southwest Region, Dream Fire, and the NM Dogs. The NM Dogs went a perfect 4-0 and had to defeat a tough Dream Fire team twice to win the championship. The NM Dogs were led by lead guard and MOP, Cohen Coon, and post player, Isaac Medrano. Dream Fire went 2-2 (losing twice to NM Dogs) and was led by their scrappy duo guards, Chase Ricker and Dillan McCloskey. Both teams earned a Southwest Region Top 10 ranking.
All-Tournament Team
MOP Cohen Coon
NM Dogs
Michael Diaz
NM Force
Dillan McCloskey
Dream Fire
Isaac Medrano
NM Dogs
Chase Ricker
Dream Fire
Jahmil Johnson
NM Force
5th Grade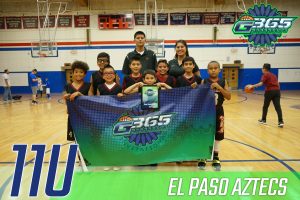 The 5th Grade championship game between the El Paso Aztecs (3-1) and Duke City (3-1) was the most exciting game on championship Sunday. The teams traded leads throughout the game and the contest remained close until the final three minutes when CJ Quirino stole and assisted on a pair of three-pointers from MOP, Isaac Reveles, to seal the game for the El Paso Aztecs. Both the El Paso Aztecs and Duke City played well enough to be considered for the G365 West Top 25 and to make it into the Southwest Region Top 10.
All-Tournament Team
MOP Isaac Reveles
El Paso Aztecs
Zach Mauro
Frey Basketball
Remy Albrecht
Duke City
CJ Quirino
El Paso Aztecs
Isaiah Martinez
Duke City
Kody Frey
Frey Basketball
New Mexico and El Paso basketball did not disappoint and we expect to see many of these teams compete for a spot in the G365 Southwest Regional rankings. We look forward to hosting additional events in New Mexico next year.