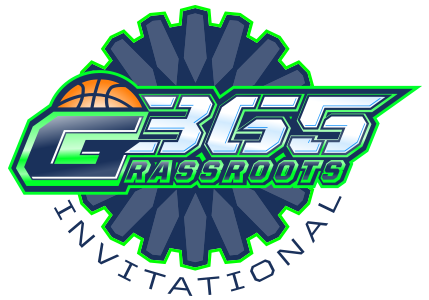 Phoenix, AZ – Grassroots 365 debuted its city showcase team event in Arizona looking to feature some of the top ranked 5th-8th grade teams in Arizona. The event featured a few upsets in the 5th grade (AZ Monstarz) and 7th grade (Give-N-Go) divisions that will boost both teams up the SW Regional Rankings. It also helps solidify 8th grade, Give-N-Go and 6th grade,
AZ Storm as the top teams in the SW region. Additionally, the event solidified our impression that Arizona basketball is quickly becoming a basketball breeding ground for some of the top talent on the West Coast.
8th Grade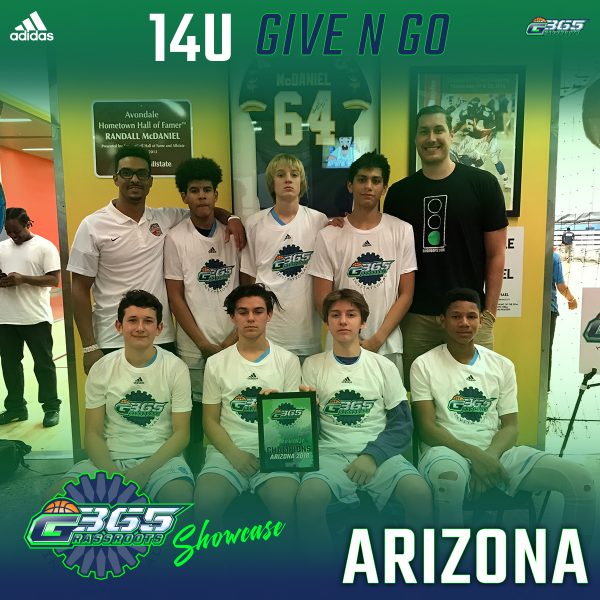 The 8th grade division solidified Give-N-Go (4-0) as the top team from Arizona who will now have to play and defeat G365 #1 SW, New Mexico Dogs to take the top spot in the region. Give-N-Go's Orlando Gonzales continues to prove he belongs in the conversation for the top player in his region after taking home the MOP for the G365 AZ Showcase and an EBC Arizona Outstanding Performer award this past weekend. Other players that impressed and made the All-Tournament team were Tru Washington (J.U.B.C), DJ Williams (J.U.B.C), Elijah Saunders (Ventura Vipers), and Blessing Nwotite (Be Elite).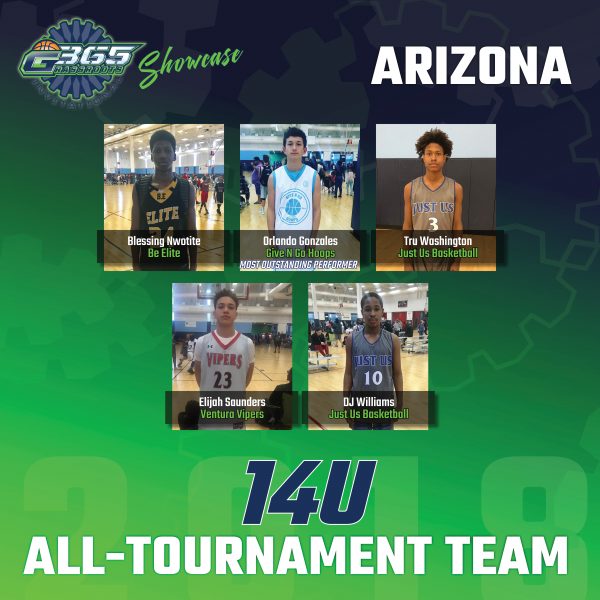 14U Southwest Region Updated Rankings
*G365 AZ Showcase Participants
1. NM Dogs
2. *AZ Give N Go
3. *J.U.B.C
4. AZ Iron
5. *AZ Ventura Vipers
6. *AZ Be Elite
7. Blue Chip Nation
8. Powerhouse Storm Black
9. *Divinity
10. Frey Basketball Academy
7th Grade
The 7th grade division cleared a few things up. First, Give-N-Go (3-0) proved to be the best team in their grade. The team is well coached, talented, and work well together. Co-MOPs Demarion Anderson and Cody Williams along with EBC Arizona top five sharp shooter, Vincent Delano, are a terrific trio of guards that cause problems on both ends of the floor. Second, AZ Storm (1-1) is talented, but will need to improve on working as a team to overcome opponents that are on par on talent. They often rely too much on the talented Andrew Camacho (All-Tourney, EBC Arizona CAMP MOP and EBC King of the Court Champion) who at times, gives the impression that he is good enough to score from anywhere on the floor. And finally, Just Us Basketball (2-1) is very good, but is another team that has to do a better job working together and rely less on their talented guard, Mark Brown (All-Tourney), and more on improving their chances of beating some of the top G365 teams.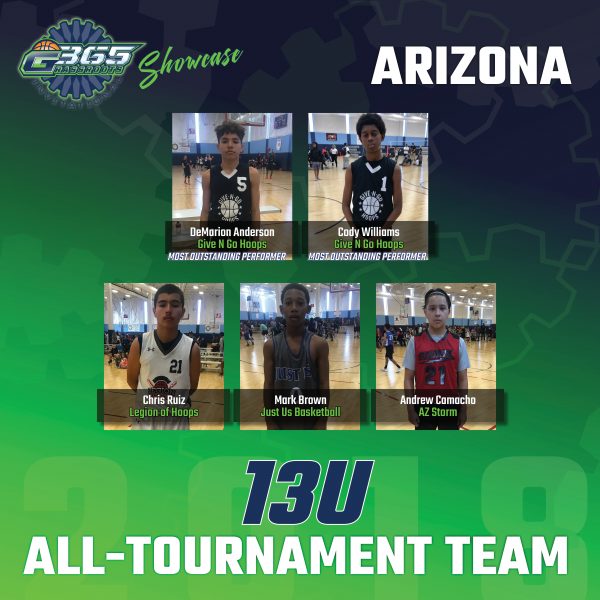 13U Southwest Region Updated Rankings
*G365 AZ Showcase Participants
1. *AZ Give N Go
2. *AZ Storm Black
3. *J.U.B.C
4. NM Elite Roadrunners
5. *Legion of Hoops
6. NM Heat
7. NM Dogs
8. Divinity
9. *AZ Be Elite
10. *Powerhouse Hoops Roadrunners
6th Grade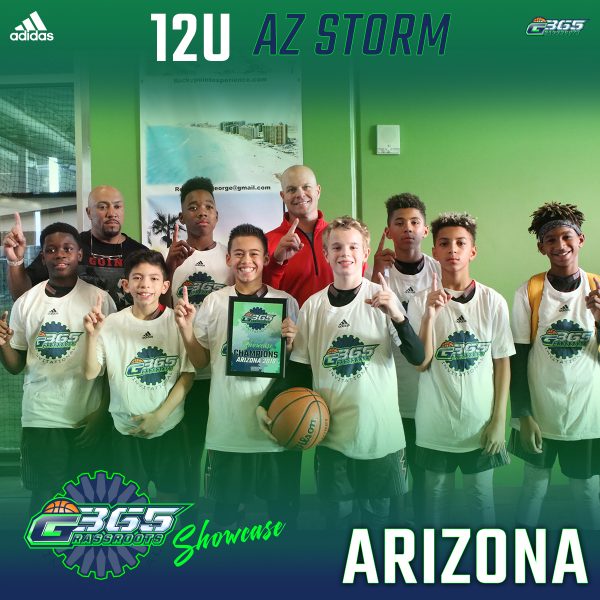 The 6th grade division featured top ranked G365 #17 AZ Storm (3-0) and other competing programs. AZ Storm had many standouts: G365 AZ Showcase MOP, Gabe Pickens, EBC Arizona Camp MOP, Bryce Quinet, and G365 All-Tournament Team, and Luke Haugo. These players led their team to victory, but there were other teams who played well enough to garner attention. Runner-Up, G365 SW #3, AZ Wolves (2-1), now have some size in All-Tourney Selection, with adding Craig Rodgers. Rodgers ability to do work inside helped open up for the Wolves talented guard combo, Dylan Gates and Bobby Rodriguez. AZ Powerhouse Roland (1-1) also impressed. They feature talented guard Brennan Peterson (All-Tourney Selection).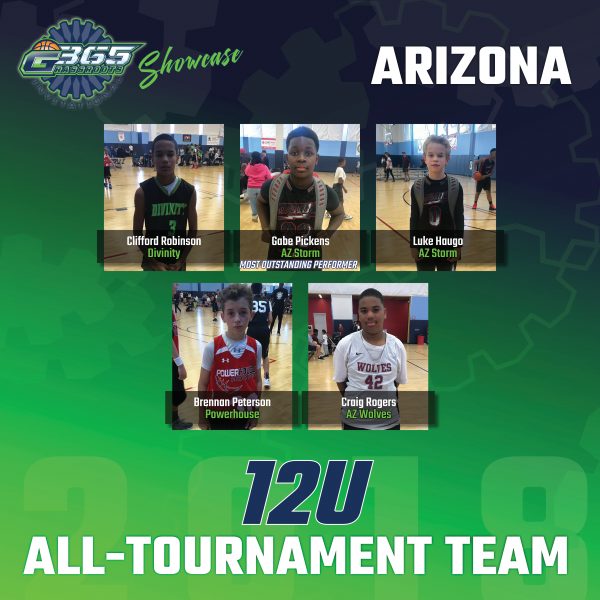 12U Southwest Region Updated Rankings
*G365 AZ Showcase Participants
1. *AZ Storm Black
2. NM Dogs
3. *AZ Wolves
4. *AZ Powerhouse Roland
5. Dream Fire NM
6. * Divinity
7. *AZ Legends
8. *AZ Bet Select
9. *AZ Powerhouse Hoops
10. El Paso Aztecs
5th Grade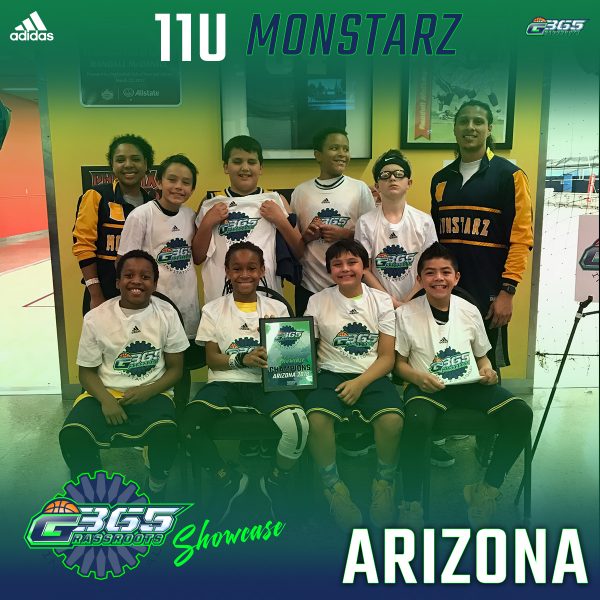 G365 #11 Sky Riders (2-1) came in as a solid favorite to leave Sunday as the reigning #1 team in the SW region. With their talented trio of Kalek House, Christion Fleming and Tayvion Wilson being coached up by former NBA Slam Dunk Champion, Isaiah Rider, we weren't expecting much to get in their way. Unfortunately for them, new G365 #11 AZ Monstarz (3-0) showed up and did more than get in the way. The AZ Monstarz came in to prove they were the top team in the region and behind were G365 AZ Showcase MOP John Mattingly and EBC AZ Camp MOP, Trevor Stanton. They pulled off a last minute 40-39 victory. Both AZ Best Select and AZ Storm also impressed enough to move up the G365 SW Regional Rankings.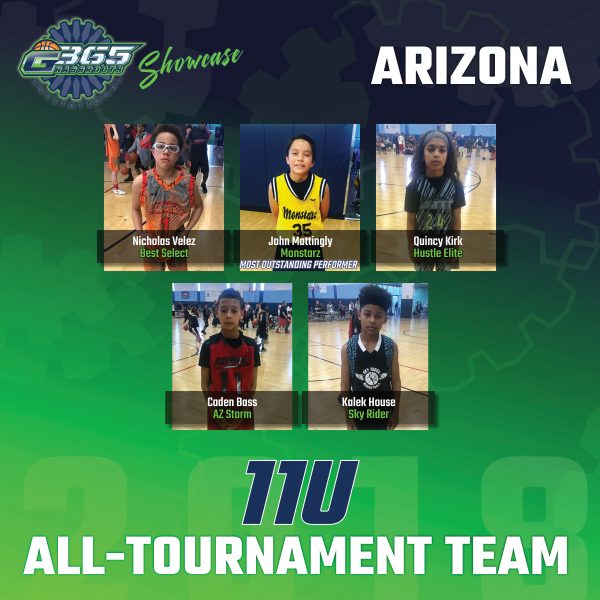 12U Southwest Region Updated Rankings
*G365 AZ Showcase Participants
1. *AZ Monstarz
2. *Sky Riders
3. *AZ Best Select
4. *AZ Storm
5. El Paso Aztecs
6. Duke City Dream
7. NM Heat 5th
8. *AZ Hustle Elite
9. NM Frey Basketball
10. *AZ Wolves