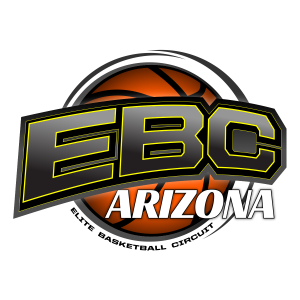 Phoenix, AZ. – The 4th installment of EBC Arizona attracted over 150 players from the valley of the sun as well as a few from outside state (CA, NM, NV, WA). Although there were none of the nationally recognizable names like there have been in the past (Jaelen House, Jason Harris, Jovan Blacksher, Nico Mannion and Tyrone Washington), the overall talent pool level went much deeper than it has ever been.
Here is a look at some of the top players in attendance that stood out:
| | | | | |
| --- | --- | --- | --- | --- |
| | | | | |
| 2022 MOP Devon Arlington | 2022 Orlando Gonzales | 2022 Anthony Jaramillo | 2022 Trenten Lavender | 2022 Joseph Montgomery |
Devon Arlington (SD Gamepoint Elite) The 6'2" point guard earned MOP camp honors after a terrific showing on the circuit. He has good length, allowing him to finish at the basket and also has the ability to make plays and set up others.
Orlando Gonzales (Give-N-Go) The 5'9" guard is a leader and a floor general who is crafty and quick enough with the ball to create for himself and others. Always works to put teammates in the right position.
Anthony Jaramillo (Just Us Basketball) The 5'8" Jaramillo showed good floor vision and handle. He did a terrific job setting up teammates and does all the little things that adds up to a win.
Trenten Lavender (AZ Iron) The 5'9 point guard has an excellent feel for the game, and offensively uses his change of speed very well to create for self and others.
Joseph Montgomery (Ventura Vipers) The 6'2" Montgomery earned top five honors by doing a terrific job setting picks, rolling to the basket, and using his soft around the basket to finish.
| | | | | |
| --- | --- | --- | --- | --- |
| | | | | |
| 2022 Jennah Isai | 2022 Nate Pickens | 2022 Oakland Fort | 2023 Andrew Camacho | 2023 Vincent Delano |
Jennah Isai (Cal Sparks) The 5'8" guard used her strong frame and uses well to attack the defense. Look for her to make a name for herself on the girls EYBL circuit.
Nate Pickens (AZ Storm) 5'8" Pickens continues to improve on his game by adding a more consistent shot, improved handle and passing ability. Defensively, he is willing to guard the toughest offensive opponent.
Oakland Fort (AZ Iron) The 5'7" guard is a fierce competitor who can score the ball well from both the perimeter and by attacking the basket. He handles the ball well and is speedy enough to beat a pressure defense.
Andrew Camacho (AZ Storm) The 5'10" wing displayed his ability to get to the hoop throughout the camp. He possess great control of his body and is able to finish with strength at the basket. He is also an adept shooter.
Vincent Delano (Give-N-Go) The 5'5" guard proved to be one of the best overall 3-point shooters in the entire camp saving his best for last, as he went off in the Top 20 game. He moves off the ball well, has a quick release, and no conscious hoisting up shots.
| | | | |
| --- | --- | --- | --- |
| | | | |
| 2024 Bryce Quinet | 2024 Brennan Peterson | 2024 Gabe Pickens | 2025 Trevor Stanton |
Bryce Quinet (AZ Storm) The 5'3" Quinet took home MOP honors by displaying good floor general skills. He is extremely instinctual on the floor, can knock down shots, and defends.
Brennan Peterson (Powerhouse) The 5'6" lead-guard showed good playmaking skills, has some flash in his game and connects with his outside shots.
Gabe Pickens (AZ Storm) The 5'4" lead-guard does a great job of creating separation from his man due to his tight handle, creativity and body control.
Trevor Stanton (AZ Montstarz) The 5'0" guard and MOP for his class has great toughness, plays with confidence and does all the things to help his team win.
We want to thank the entire EBC Arizona Staff, Players and Families for making this another great event!