Since the last Ballislife Jr. All-American Camp in 2019, top programs from around the country have been developing talent behind the scenes. Hours and hours of long nights in the gym and a no days off attitude has brought us to 2021 wherein camp invites have gone out. The hard work hasn't gone unnoticed, and our staff here at Grassroots 365 in partnership with Open Gym Premier and Elite Basketball Circuit wanted to shed some light on programs that have stood out above the rest.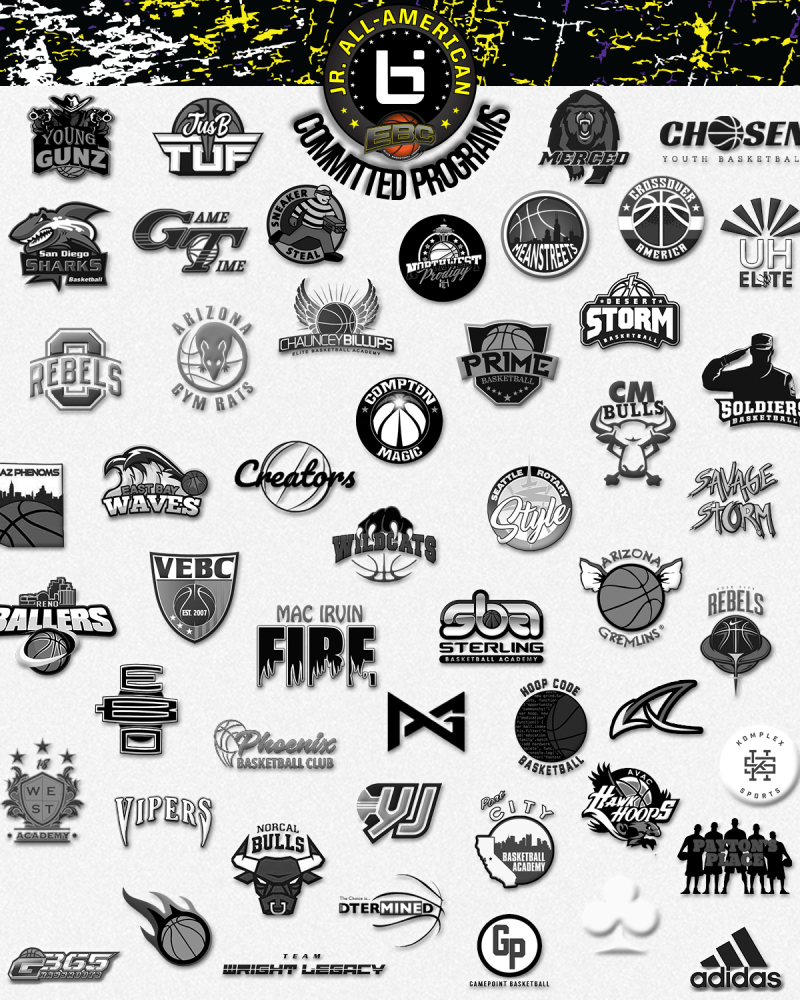 3 Point Academy
360 Basketball
A Game Basketball
A Train for Youth
Ackright Premier Sports
ALR ATHLETICS
Arizona Elite Basketball Club
Arizona Gym Rats
Arizona Legacy
Arizona Phenoms
Arizona Select
AVAC Komplex
AZ Gremlins
AZ UH Elite
Bakersfield Trust the Process
Bay Area Renegades
Bay Area Tar Heels
Bay City Basketball
Branch West
BTI Hoops
BullDawgs Basketball Club
Bulldogs
Cali Rebels
California Basketball Club
Carson D.U.C.K.S
Cavs
Chauncey Billups Elite
Chosen Youth Basketball
CM Bulls
Compton Magic
Creators Basketball
Crossover
DBA Drive
Desert Storm Basketball
East Bay Waves
EBO Basketball
Elite Sports Academy
Fast Break Youth Basketball
Flight Elite
Fresno Wildcats
FRO
G1 Elite
GAME TIME
Gamepoint Basketball
Gamepoint Elite
Gamepoint IE
GameTime
Genesis Hoops
Hawk Hoops
Hollywood Heat
Honolulu Sharks
Hoop Code Basketball Academy
i805 Future
IE SIXERS
ITRAINHOOP
Jam On It
JMGP Elite
JR ARSENAL
Jr Hoops Academy
Jr Hoops National
Jr Kings SD
Jus B TUF
JW Basketball
King's Basketball Club
Komplex Sports
LA Blue Chip
LA G1 Elite 2027
Ladera Sports Center
Lakeshow
Lathrop Thunder
LIFT Basketball
Long Beach Nikos
Mac Irvin Fire
Magic Boyz
Meanstreets
Mentally Fit
Merced elite
NorCal Bulls
Northwest Coastal Basketball
Northwest Kings
Northwest Prodigy
Oakland Rebels Black
Oakland Soldiers
OBGC Finest
OC Hot Shots
One on One Basketball Club Premier
One Vision
Open Gym Premier
Palo Alto Flight
Paul George Elite
Payton's Place Elite
PFB Elite
Phoenix Basketball Club
Player Development Basketball
Playground Buckets
Port City Basketball
Portland Bulldogs
Prime
Prodigy Athletic
Prolific Elite
Rage Elite
Rancho Elite
RBA Waves
Rebels Elite Basketball
Reno Ballers
Reno Hype
Rialto Rebels Youth Foundation
Rose City Rebels
Sac Dream Basketball
San Diego Sharks
San Diego Soldiers
San Francisco Rebels
San Francisco Soldiers
San Jose Dubs
Santa Barbara Magic
Santa Barbara Vipers
Savage Storm
SB Prospects
Seattle Rotary
Sin City Sauce Boyz
SNEAKERSTEAL
Sterling Basketball Academy
TCB
Team D'Termined
Team Dojo
Team Eleate
Team Elite Quality Sports
Team Loyalty
Team PG
Team Rampage
Team Touch
Team Vegas
Team Wright Legacy
Texas Blue Chips
The Truth
They Got Next
TK Basketball
Triple Threat Basketball Club
UT Hoops Elite
Utah Elite
Vegas Ballers
Vegas Elite Basketball Club
Vision Basketball Academy
WC Threat
West Academy
West Coast Elite
West Coast Elite SD
Westside Warriors
You Ball
Young Gunz Basketball
Good Luck to all of the representing programs this weekend at the Ballislife Jr. All-American Camp 2021, check back next week to see which players went OFF!